A lesser lover of Christmas would have been drained of their holiday spirit years ago.... but not this moi..... I'm still completely jazzed by it....... it makes me remember long summer holidays of being dropped off at the Halls Gap pool at 9am and picked up at 5pm... the sun damage gives me nightmares, but oh to spend the entire summer in a blurry haze of chlorine affected vision again.... twas bliss.
I've been faffing around with Christmas Tree ideas this year... and after 2 fails (my hat rack came dangerously close to being thrown off the balcony) I've settled on a very simple mt tape outline... I'd say it's ok only..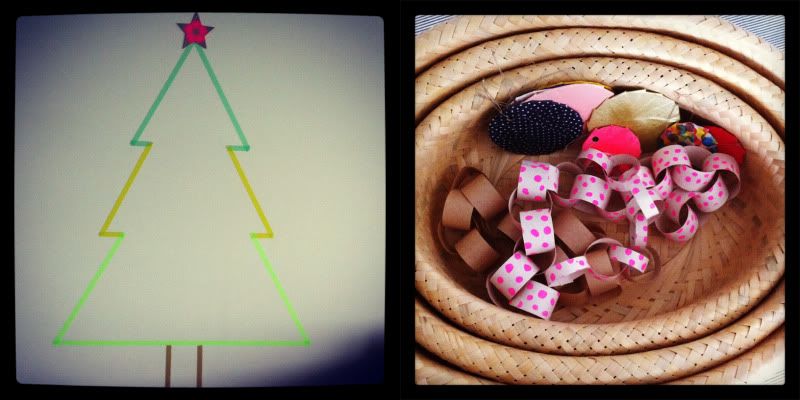 Recently I've been pretty flat out on the weekends doing wedding stuff, it's getting fun seeing it all come together.... so far it's looking like a fun mess of food and colour... should be a good day! Anyway I had a 'wedding free' day on Friday and it was so lovely.........I walked with Leon to work, had a sneaky hour of playground time with a dear friend and her bub, then popped in to the Design Files open house (purchased a few wee treats) then walked home, hung out with mum for the arvo and had finished the day off with a yum dinner with my sister (she made sticky black rice with mango... ughhhhhhhhhh delish!)..... perfection!
below are a few snaps and highlights from the Design Files open house.