Mina Perhonen, images from Mina Perhonen.
Rittenhouse - Polka Sundress from Incu online, images from
Incu
.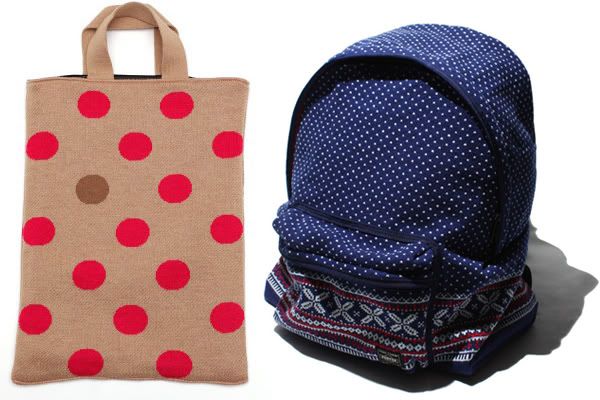 Hansel from Basel - polka dot bag , image from Needsupply (also available from Monk House Design).
Junya Watanabe x Porter - Day Pack. Image from Beeweb.
New Kid - Elma Kook T-Stap, image from Need Supply (also available from Urban Outfitters).

Siwa - Backpack, Image from Mjolk (also available from Cibi).
Oji Masanori + Futagami - Frame, Cresent and Eclipse Bottle Openers, image from Oji & Design (also available from
Mr Kitly
).
Rina Ono + Takahashi Kougei - Cara Series, image from Mr Kitly.

Oji Masanori + Futagami - Tough Knife Stand, image from
Oji & Design.
Castle - Velvet Pom Pom Cushion, images from Castle.
Kilim Cushion, image from Fashion Loves People.
Toast - Water Hyacinth Floor Cushion, image from Toast.

Wood Wood - Nelin 111 Dress, image from Wood Wood.
Zero Maria Cornejo - Sahara Dress, image from Creatures of Comfort.

Uimi - Theodore Blanket, image from Story.